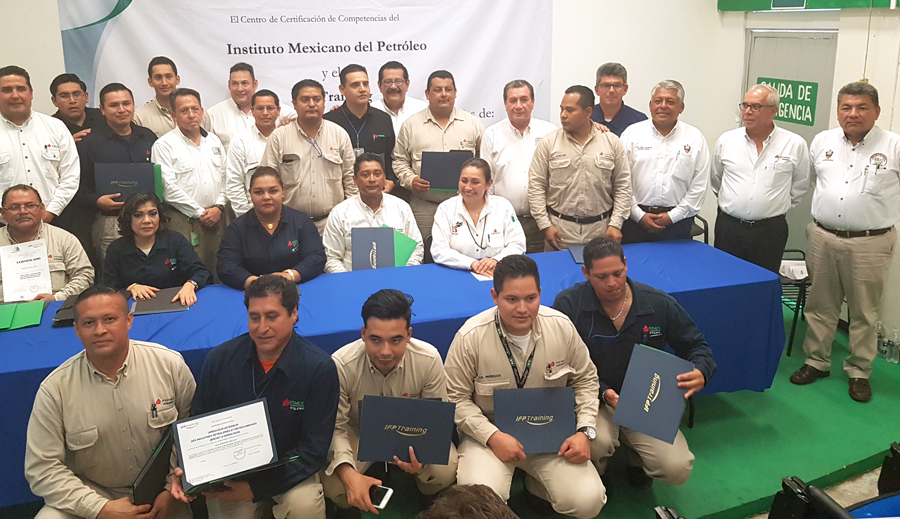 IFP Training and the Mexican Petroleum Institute (IMP) have joined forces to carry out an international certification project for 120 operators in the Gas and Petrochemical divisions of PEMEX Industrial Transformation.
Approved and funded by the National Council of Science and Technology (CONACYT) and the Secretaryship of Energy (SENER), Operator courses have started for 21 gas operators and 21 petrochemical operators, after a selection of nearly 80 candidates.
The first two cycles ended in March after a week of tests, then a jury composed of IFP Training, PEMEX and IMP staff met in Villahermosa and validated each of the 21 Gas participants' Certification.
On March 20, the graduation ceremony, attended by the families, was marked by speeches of representatives of IMP, PEMEX and IFP Training, a participants' representative and a spokesman for the union.
A second jury was held the next day in the PEMEX facilities of Morelos and validated the Certification of the 21 petrochemical participants.
Groups 3 (Gas - Nuevo PEMEX) and 4 (Petrochemicals - Morelos and Cangrejera) will start on April 9 and 16. For both groups, Certification will happen next November.
Two other groups (Gas - Ciudad PEMEX and Petrochemical - Morelos and Cangrejera) will start training in December and end in July 2019.
¡Felicitaciones a los nuevos certificados y buena suerte para los futuros!