Accreditation
We offer training centers an accreditation of their activities. They then become partners of IFP Training and bring their public towards one of our worldwide recognized Certifications. The IFP Training accreditation process establishes trust and a lasting relationship among the various sides involved: training centers, client companies and trainees. The purpose of our approach is to contribute to building local training capacity (centers, programs, lecturers) in line with international standards.
THE STAGES OF ACCREDITATION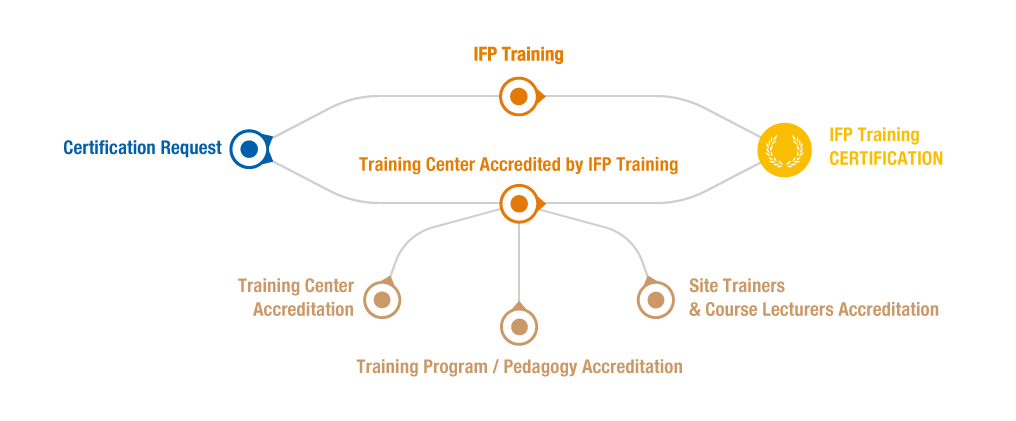 OUR COMMITMENT, YOUR TRUST
To earn an accreditation of its activities, a training center has to fulfill all requirements defined in IFP Training's reference tables, which concern various complementary and indivisible themes:
The training center and its organizational arrangements

Educational methods and programs

Knowledge and skills assessment methods

Educational materials

Lecturers

The educational team
YOUR BENEFITS
By calling on to an accredited center, both customers and trainees can be certain to find the same level and quality of service directly delivered by IFP Training.
Some advantages of being accreditated:
Maintain the technical skills of the training center and be informed of the latest evolutions of the domain of accreditation

Optimize the functioning of the training center

Obtain an international recognition of the training and certification quality

Favor the training center's recognition by your customers, trainees and partners

Mobilize teams on a federative corporate development plan

Become a member of a network which allows a better understanding of the international market and the exchange of best practices

Be listed on

IFP Training

's website as an accredited center